http://www.crossclub.cz/cs/program/2405-mythology-with-filastine-nova-esp-usa-tabor-radosti-cz/
MYTHOLOGY (Filastine & Nova (ESP/USA), Tábor Radosti, Schloss Tegal (USA),
d.R.e.G.S. (FR/ESP), DJ Deus Ex Machina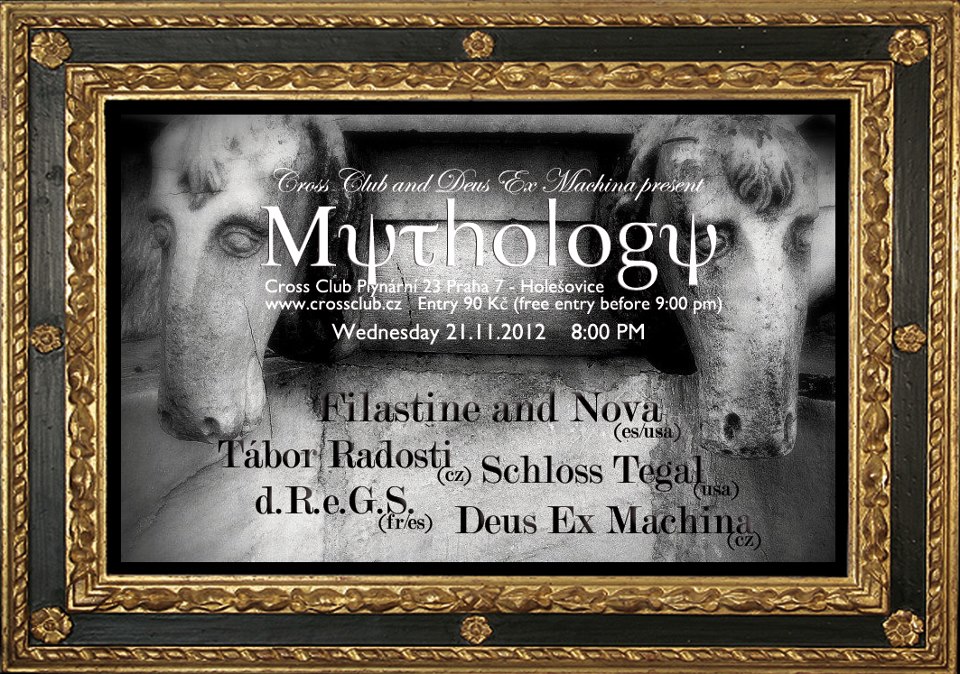 Filistine is nomadic artist from USA who uses recycle junk metal, shopping carts, and traditional percussion and electronics to create electro-acoustic music with middle eastern spices. He has recorded for Jarring Effects and other dub step related labels. He could be viewed as the "Einsturzende Neubauten of Dub Step", nomadic and using recycled materials creating trance like forms of hypnotic beats. He is a well known name in the genre and we are honored to have him at this years Mythology.


Tabor Radosti originated deep in the mystical caves and catacombs of the ancient city of Jihlava. Full of symbols and proficies of a mystical realms they take you threw a journey of primal beats, sound, and video. Their music is full of subterranean mystical sounds and rythms thats challenge the mind and body. A trip into DMT and Salvia Divinorum experience through sound and video. An LSD trip to another world.


Schloss Tegal uses realism and intrinsic sound to create an ambience of noise and psychic realism. He has been know as the founder of the dark ambient genre of electronic music with many limited edition experimental releases. His new recordings are based on the concept of "psychometry", spirits that have been recorded into solid objects. He will be performing this new material at this years Mythology. His new CD "Oranur III" The Third and Final Report will be released on Cold Spring Records UK.

d.R.e.G.S. (Fr/Es)
http://ydegoyon.free.fr/
d.R.e.GS. is an abstract view of art and sound. He will perform "random Access Mind" a performance for ghosts and spirits subtitled "ghosts are our friends" a new experimental project where the actor gestures are processed and transformed into spectrums and video noise patterns, creating a visual experience where you can see beyond known perception and see hidden

DJ Deus Ex Machina
Taking you late into the evening will be Deus Ex Machina. Prague's top dub step DJ which has played in many clubs in Prague and abroad mixing electro dub, oriental heavy dubstep style with original soundtracks from obscure old films and symphonies. Her deep heavy bass sound and unique style of mixing vinyls placed her on the roster on many events, parties and festivals. She played on the same stage with many well known dub and dubstep artists. many of whom were guests at her yearly clubnight called "Mythology". She has supported such acts as Adrian Shewood, Mala, Sgt Pokes, Cardopusher, VexD, RSD, Uzul Prod, High Tone, EZ3kiel, Kaly Live Dub, Filastine, Sofa Surfers, Mode Selector, Scorn and more. She welcomes you to this years "Mythology" for a unique line-up of live music.